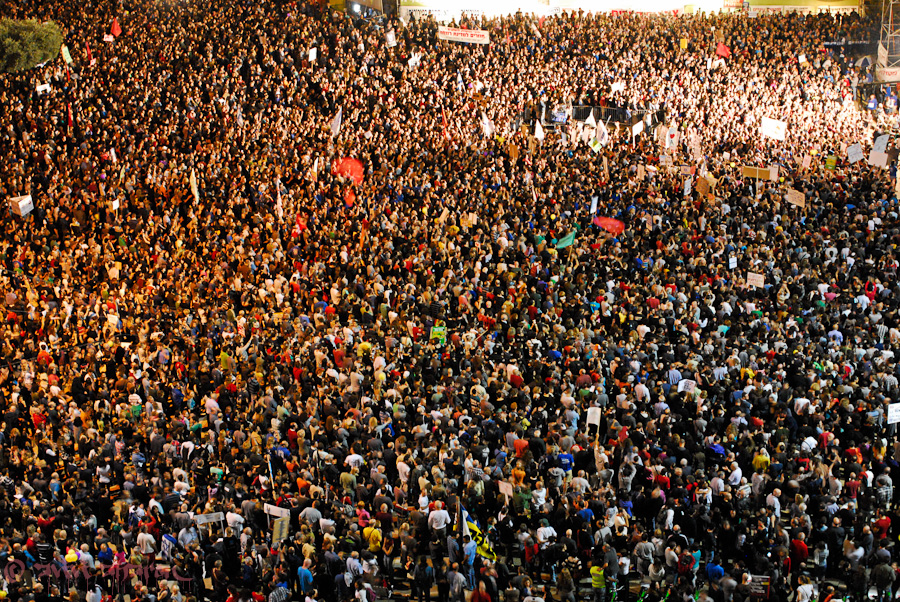 Dossier:
Protest
Five years after the Tel Aviv Tent Protests the award-winning filmmaker, journalist and curator Ari Libsker looks back and reconstructs the movement for social justice, looking into the lives of six activists.
The stories were first published on July 8th, 2016 in the Tel Aviv newspaper The Calcalist in Hebrew. The English translation appears on fairplanet by courtesy of Ari Libsker and The Calcalist.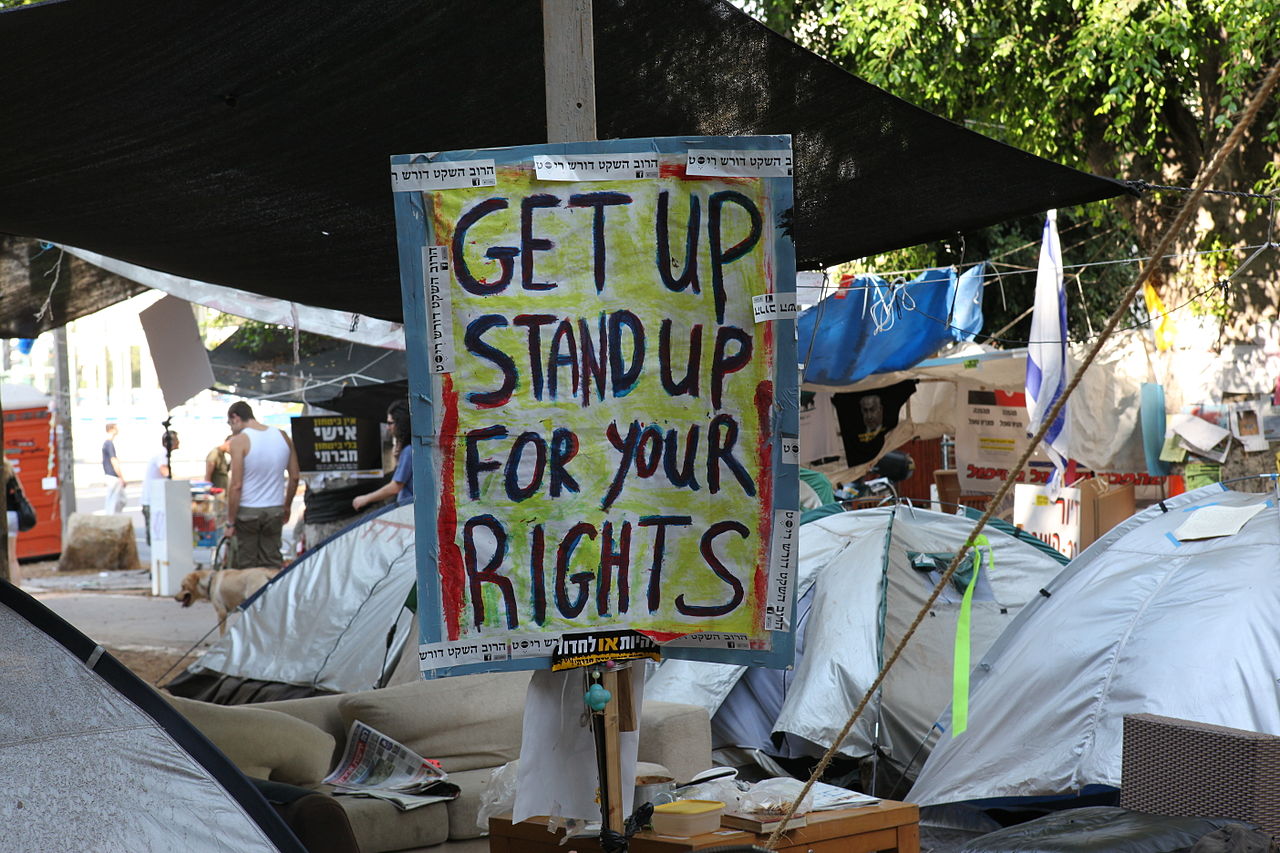 01.
The People who Went in a Tent and Came out Different
Tel-Avivians didn't take too serious, when it all started on the 14th of July, 2011, but within a number of days an impressing colony of popped-up camping tents stretched out on nearly the whole length of Rothschild-Avenue, the tree-lined glamourous mile of down-town Tel-Aviv, purled by precious Bauhaus-Buildings as well as luxurious residential- and business-towers.
Inspired by similar events taking place in Bueonos-Aires and Barcelona at those times, furthermore by the Occupy Wall Street movement and after all by the uprisings of the Arab Spring something happened now in Tel-Aviv at this summer.
There were music circles, improvised kitchens, party games, art installations, but above all, deep conversations between strangers, from completely different social circles, talking about the constant bank overdraft, rent, and the realization that the future is not going to make it better. Different ages, different, yet similar, struggles, and one clear feeling: the financial system must change.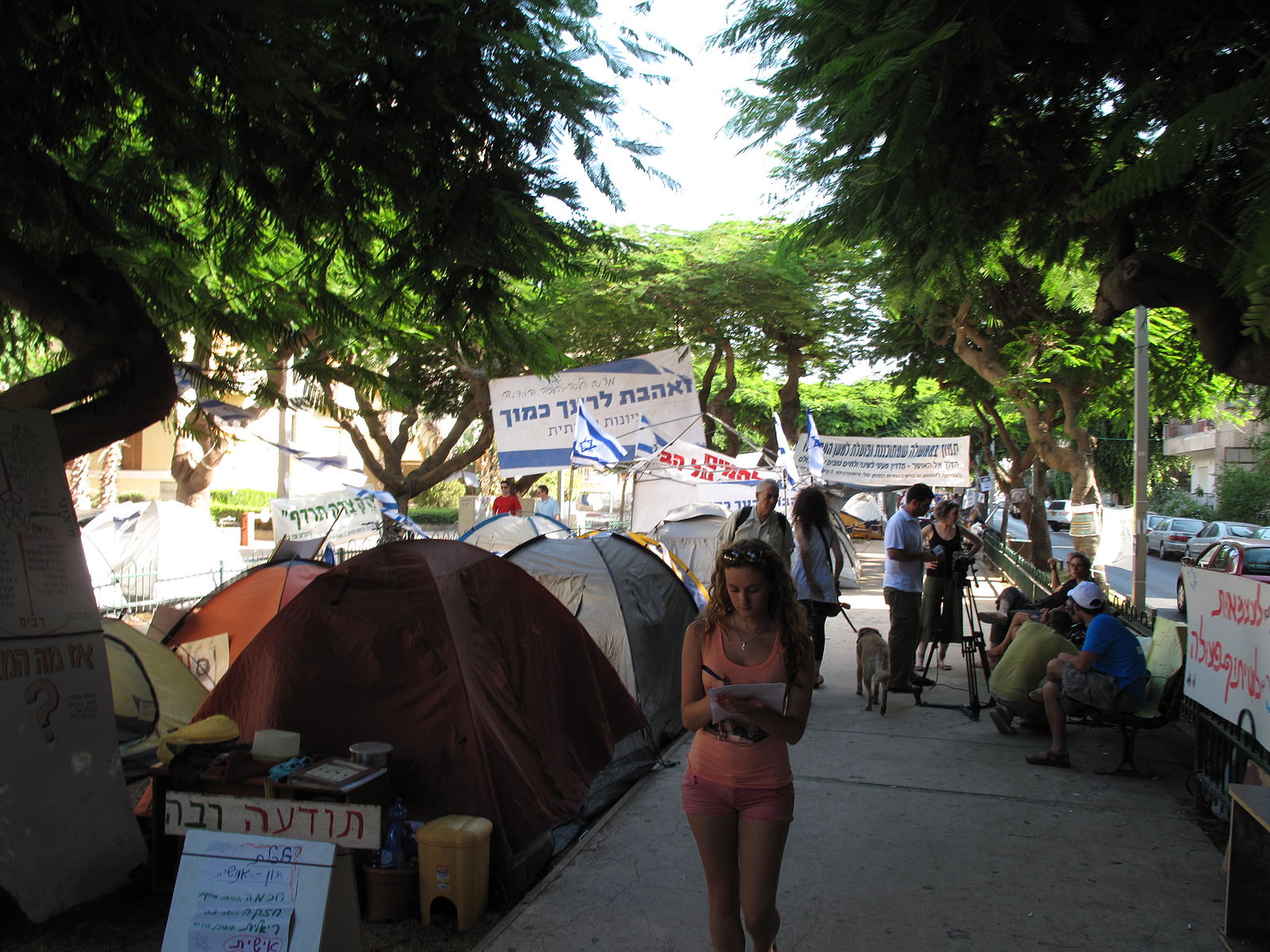 Five years later, the costs of living are as high, housing is even more expensive, and the financial methods leading to the protest is still in power. The hundreds of thousands of people from all around the country, who participated in the protest, in the demonstrations, tent cities, and Facebook groups, are still fighting. Not against the government, but with day-to-day life. That summer ignited their rage, and hope with it. But as autumn arrived, most of them returned to their routine of life, to the burdens of making a living and paying the bills, to work, to the kids, to survival. With a more realistic view, with raised awareness, but in most cases, more despair. For most of them, what initially burst out as a town square protest across the country, eventually transformed into a change in consciousness, simmering beneath the surface. A skeptical approach towards the government and businessmen too closely associated with it, together with changes to consumption habits, financial understanding, and decision making.
But for some, the change was far more quick and dramatic. Those are people who went out to the streets, whose world was shaken by the protest. They found a new calling for life, went off the path they had been walking in, moved out of flats and left jobs, opened up savings accounts, and paved a new path for themselves. They came out of the protest as agents of change. Five years later, they describe their moment of revelation, and life after experiencing it.
In each of the six following items always one of the leading participants in the Tel-Aviv tent revolt of the year 2011 will share their stories about how the social justice protests turned them into different people, proving that its aftereffects would continue to change the face society in the long term
02.
From Senior Military Position and Working as an Analyst, to Running the Social Guard
"I understood what was rotten, and understood it could be changed."
From holding a senior position in the army and later on working as a financial analyst the Tell-Aviv tent revolt of 2011 metamorphosed Boaz Rakocz into running the social guard.

Boaz Rakocz studied for Bachelors and Masters in international relations at Columbia University, and then returned to Israel and worked as an analyst at a research company. He was on the well-padded side of things. The media reports of young people protesting against the high rent, setting up tents, didn't really have anything to do with him. "When the protest began, I was being skeptical and critical about it", admits 34-year-old Rakocz, from Tel Aviv, "it took me a while to join in". He helped, listened, and something began to burn inside of him. His mind was opened to a variety of new ideas, and Rakocz was sucked in.
"I learned what flat democratic organization was, sorting things out and reaching oral agreement on issues. I was exposed to people who were more radical in their approach to the state. I began to realize that the government here is rotten and problematic, and that this protest really has the potential to change things," he says, adding his own motivation:
"I had this dream, growing up, to become a leader. When the protest started, I felt like I could achieve that dream, and I could do it in a way that was congruent with my values."
Rakocz decided to quit his job. In October 2011, he joined the founding team of the Social Guard, a civilian group supervising the Israeli parlament´s activity and promoting more egalitarian legislation – which became one of the main movements that stem from the protest, and one of the most prominent forces in the fight for transparency and for public involvement in governmental institutions. One year later, in July 2012, Rakocz was made CEO of the organisation, and started collecting a salary. He was doing that for three years, when he quit and started working on "The Whistle", an organisation which is already getting donations, and is intended, as he puts it, to act as a "watchdog of the media, encouraging cooperation and civilian influence on journalists' work, in the public interest.
"The social sector isn't as profitable," he says. and I often ask myself why I need this, with my records, I could easily find a job in home defence and cyber, where some of my friends are working, but I believe a change is possible."
03.
From the PM's Office to a Cooperative Fighting the Cost of Living
"In the tent city, I learned to believe in the citizen's ability to act, and in the power of the group."
Orly Leopold's life was running smoothly in the safe lane. With a bachelor's in law and political science, the 27 years old Tel-Avivian was working as assistant to the CEO of the Bureau of Intelligence – an appendix of the Prime Minister´s office. "After one week at the tent city, my life was completely transformed", says 32-year-old Leopold today.
"I found it hard to go back to my previous life, all the balance had shifted."
I had always had relatively high awareness to things, but I've accumulated a lot of knowledge in the tent city, got to know people who share my way, I realized that I could have more faith in citizens' ability to create change, and the power that a group has, to do things together. And those quickened realizations and intensity that I went through at the protest – the entire Israeli public is going through the same thing, only it's a slower process".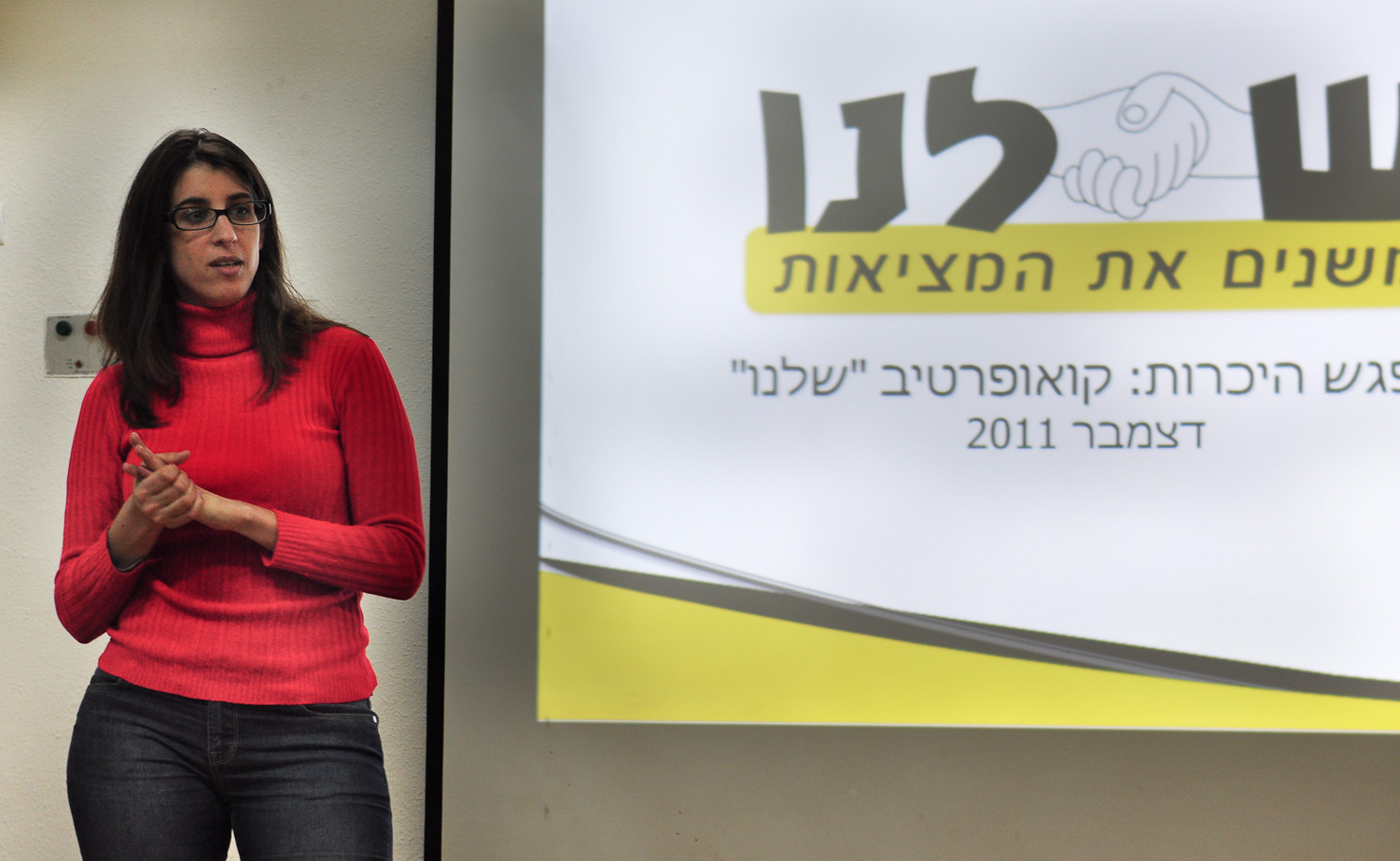 Her quickened realization regarding the need for a group action was also quickly translated into action. "At the tent city, we realized that one of the biggest problems was financial ignorance, and we decided to establish the social university, which at the time of the protest held two lectures a day on financial issues. And a lot of thoughts came into being there". One of those thoughts developed into the "Shelanu" [Hebrew: Ours] project, a cooperative aiming to lower the costs of living using a discount credit card, pension products with reduces fees, and a supermarket (including a physical store and online orders).
The entrepreneurs behind this idea contacted me because they knew I had the legal education, that I know my way around the corridors of power, and that I'm good with bureaucracy, and all of a sudden I found myself writing the articles of association. I was telling them that if we want to run it the right way, we need a secretary and a treasurer, so they said: 'then come and fill those positions'. And I was only coming to help. I didn't want to lead this. I didn't know it would become my entire world. I got sucked in".
For two years, she was effectively working two full time jobs: her official, governmental one, and her unofficial, social one. In 2013, she quit her governmental position and devoted herself completely to the cooperative. At the same time, she also studies for an executive MBA, deepening her understanding in accounting and retailing, as well as her perception of social issues. "The idea behind the cooperative is that the owner is the customer, and that cancels out the inherent conflict of interests between a business and its owners, its employees, and its customers", she explains while walking through the shelves, making sure everything is in place, sorting out a slightly messed up pasta shelf. It's not 100% clear whether it's an extremely strong need to be in control – or an extremely strong need to heal the entire world. She speaks with passion, decisively, she's engaging.
Now she's putting her energy to use in slightly different directions, and going on a lower gear at the cooperative. "I didn't want to be on a payroll here, because we only pay the supermarket employees. Now, after 1.5 years with no salary, living from savings, I went back to work, and got into the public benefit company that's building the Cyber Park in Beer Sheba (the biggest city in the southern, desert part of the country). I've previously worked in private sector companies, but after the insights and experiences I've had at the protest, and with establishing the cooperative, I know I won't be doing that anymore, I intend to keep on working solely for social causes."
04.
From Making $200K a Year, to Fighting for Minimum Wage
"I knew how to use money to make money, until I realized the damages caused by capital market."
From being a successful finance professional, thirty year old Ithamar Farhi became an activist fighting for employee rights.
The tent city, the demonstrations, the media coverage of the social revolt and the thoughts that followed, made him realize how disconnected he was from things.
"I realized the damages caused by capital market. People lost most of their money, their houses, became unemployed, children watched their parents collapsing, all because of speculators who deceived them and played with their money," he comments harshly, but still keeps his monotone voice, matching his indifferent, hipster look.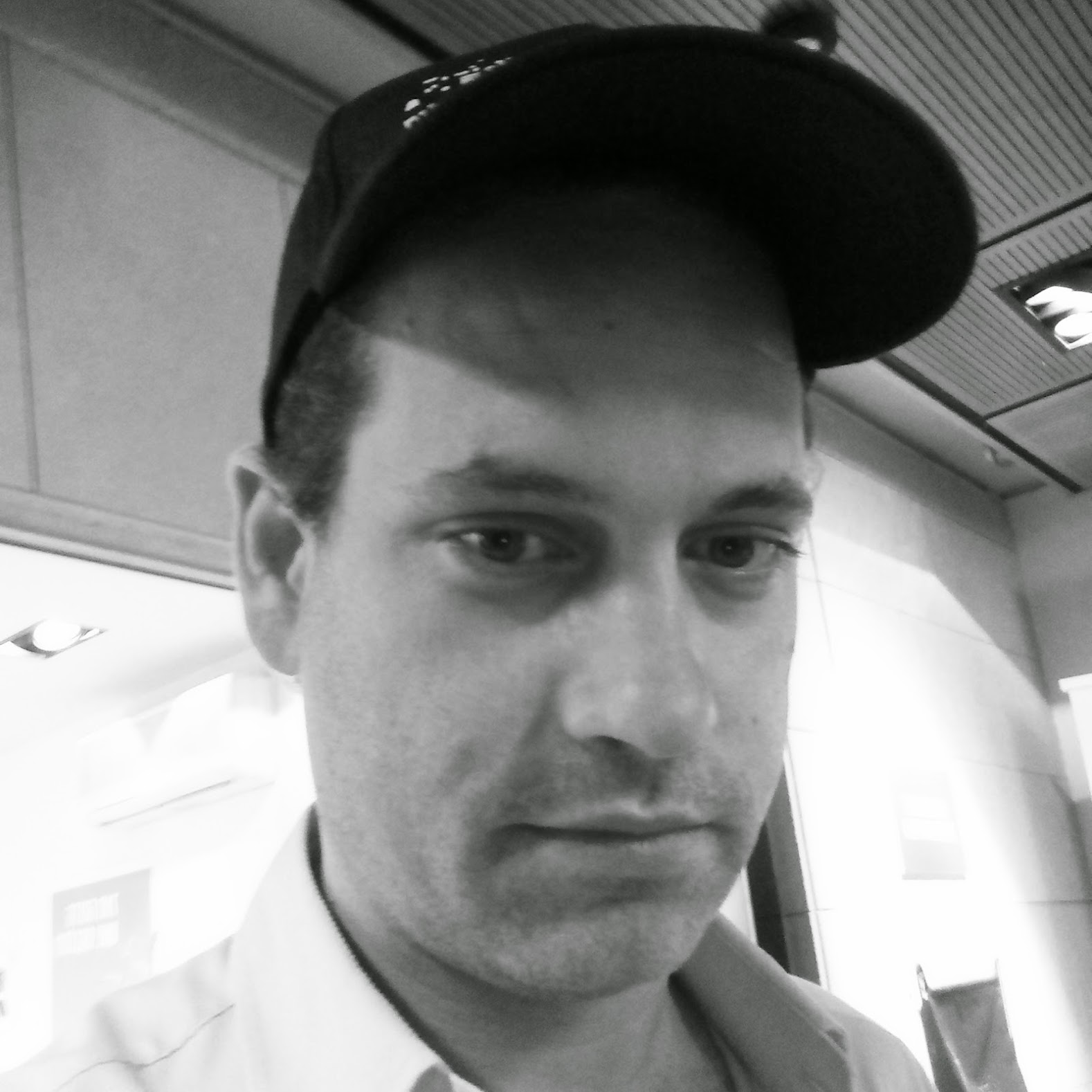 "I wanted to succeed in life, and to me, success meant making lots of money, and the place to do that was Wall Street". He managed to make his way into a financial derivatives company, as an intern, and felt lucky about the opportunity he was given, without having an Ivy League degree. But reality turned out to be far from what he'd dreamed of.
"Everything was being run so horribly, I was truly amazed. I came from Israel thinking Wall Street people were all brilliant and smart, that you had to come from Harvard or something like that, but when I was there, I realized that everything was on a very unstable ground: one of the people I was working with was an alcoholic, shaking hands and all, I'd never seen anything like it, the other one was a junky, and those are the people running the world".
He went on to open up his own trading company, "and in 2006, it was already clear – to me and everyone working around me – that it was all about to collapse. If it would have blown up then, it would have been less of a catastrophe, but when it happened, in 2008-2009, everything collapsed. People went out to the hallways carrying cardboard boxes. That's when I knew I wanted to go back to Israel".
He came back to Israel in 2010, and started an algorithmic trading company with two other co-founders. They found an investor, work was moving forward, but with time, the partners' relationship was experiencing some difficulties, and meanwhile, tents were set up along Rothschild Boulevard.
It took a couple of years, until he found in 2013 the social path that was right for him. All that time, he was living off his savings from his former work at the stock exchange.
He joined "Koach La'ovdim" [Hebrew: Power to the Employees], where he's supporting workers' organizations across the country in various fields. "I understood that everything I'd been trying to do in the two previous years, in all those different projects, I could do much more effectively working for Power to the Employees. People are willing to join one or two demonstrations, but they find it hard to connect to it on a day to day level. With employees who are working for their own good, there's a daily, real, very strong connection made, because those are their lives. You're much more likely to change things in this context. I'll give you an example: when I got to Power to the Employees, Obama went public with a campaign to raise minimum wage. I said: if Obama is doing it, it's time we do it here too. We started this process, and within a year, minimum wage was also raised here."
05.
From a Life of Struggling to Keep Up, to a Life of Choosing not to Try
"I suddenly realized that it wasn't just me who was failing, other people did too."
Ilian Marshak was not coming from a seemingly safe and settled down place, but from the other side of the social strata, from the bottom, from a life of temp jobs and basic survival, when inspired by the tent-revolution he found for the first time a clear path and a calling.
"I was working in all those jobs showing up in the classified section as temp jobs: I was selling paintings abroad, working at a call center, at a paint factory, gas stations, with livestock, at chicken factories. I was working as a security guard, I was also securing politicians and all kinds of celebrities, lawyers whose houses I was babysitting for hours on end."
"When the protest started, I stopped going to all those jobs. I felt that the protest was more important than anything else, and that we were changing reality."
"Before the protest, I was this sort of this right-wing person coming from the periphery, growing up in boarding schools, I used to be that person who, instead of taking out his rage against the government, was taking it out on the Arab cleaning the apartment building, for instance. It wasn't until 2011 that I realized that it wasn't just me who was failing, that other people were also struggling financially. I started feeling that I had more potential than that, that I was talented, and that my time was worth more than 20 Shekel and hour."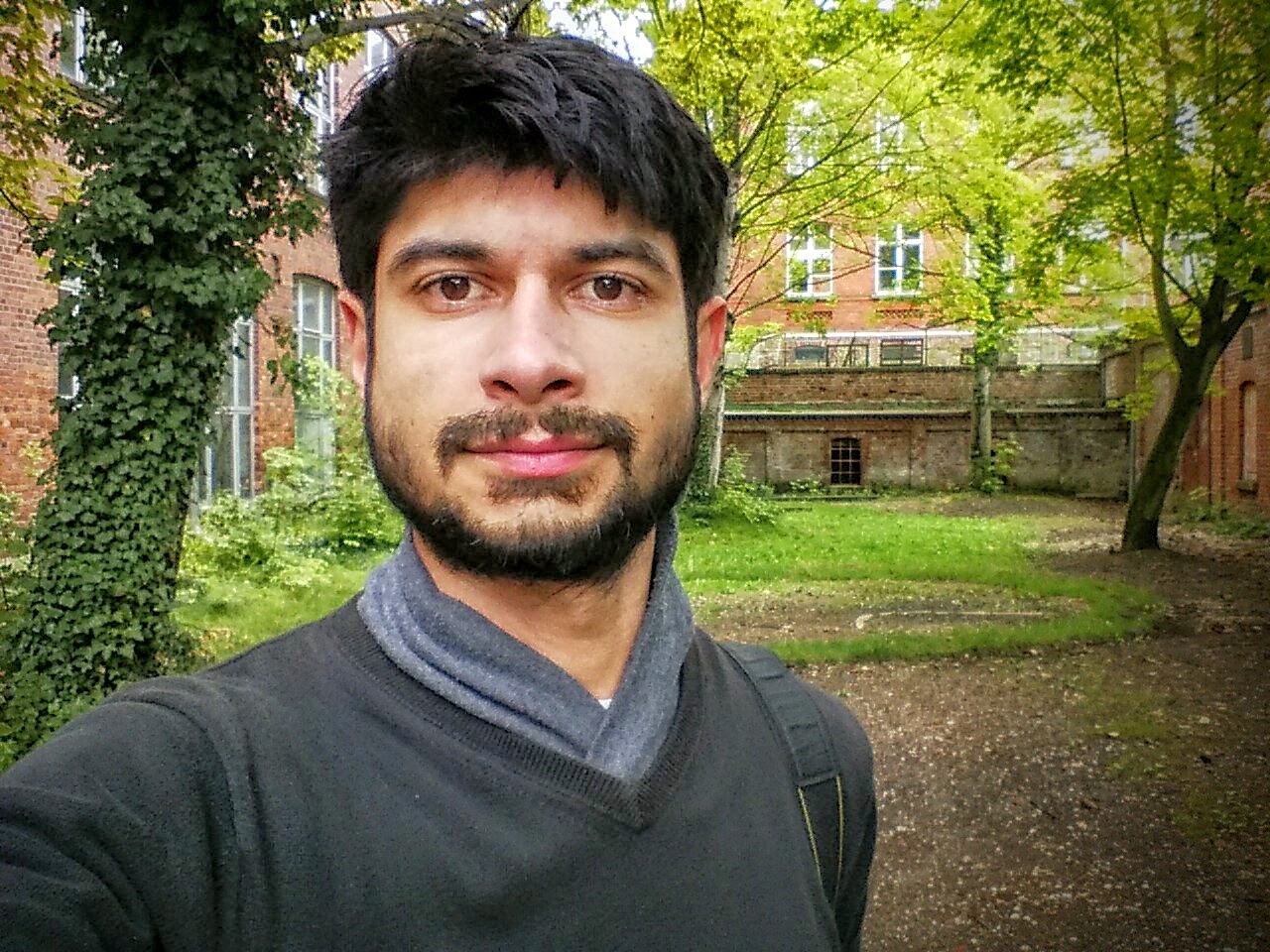 At the early stages of the protest, 31 year-old Marshek became the protest's TV channel: he was broadcasting the demonstrations and voices from the boulevard live from his cellphone on his Facebook page, while calling out protest slogans and even confronting police officers. The shots were accompanied by captions of his interpretations, demonstrating virtuosic verbal skills, a lot of pathos that resembles that of good old radio broadcasters, spiced up with graphic imagery and juicy curse words. From a life of feeling like a failure, between temp jobs, Marshak became one of the voices most identified with the protest, and a prominent internet figure.
And then the demonstrations were over, the Rothschild tent city was evacuated, and Marshak turned to the homeless people's tent city near the Tel Aviv Center railway station. "I became friends with the homeless people I had met in Rothschild, and I felt like I had to help them. I posted on Facebook that I needed help setting up tents in Arlosoroff, and Gal Levin, who specializes in cheap accommodation solutions, came from up north. He taught me how to make geodesic domes, and I started building that kind of accommodation for the homeless people."
Nowadays, his activism has mostly narrowed down to broadcasting various protest related events. He's living in Tel Aviv, "working in all kinds of jobs that have to do with carpentry and drone video photography. I've recently discovered carpentry: I'm building furniture from used wood, and hope to start getting orders from people following my Facebook page, but I basically plan to continue going in the same path I started with, which is broadcasting demonstrations and protest related events".
In any case, his plan is to stay off the grid. "The protest has really changed my life. Today, I don't have a bank account, and I'm not paying social security because I've accumulated 90K NIS debts. People following me on Facebook, who had heard about my debts, helped me pay them back, but I still won't open a bank account of pay social security".
06.
From Financial Journalism to Creating Community Art Projects in South Africa
"The tent city gave me a tangible experience of being able to build a better society."
Back in 1993, when Valerie Geselev was 9 years old, her family came to Israel from Ukraine. Her family was busy with getting integrated in Israel, and "the message I was getting from everyone surrounding me as an adolescent was 'don't bother yourself with politics, focus on your own life'. Politics wasn't sexy, it was something inefficient, bothersome". She studies journalism and international relations, then worked as head of the news desk at the financial newspaper "Calcalist".
"I wasn't involved in anything political, I didn't have any experience with anything of that sort, I was just living next to Rothschild boulevard when they started setting up the tents, and when I was passing by there during the first days, it just felt right", recounts 32 year-old Geselev. "I came without thinking. I set up a tent with two friends, male and female, and got attached to the place. I was charged with so much energy and inspiration.
It was the first time I felt like I belonged, felt that solidarity with people who were feeling the same.
There were people hosting a pop-up kitchen and open meals, some people were giving yoga lessons, some just helping others. I started an open living room with my friends, outside our tent, so that people could come and talk, have deep conversations, not be bitter or repeat slogans. There was a dynamic that I didn't know could exist in the reality I was familiar with."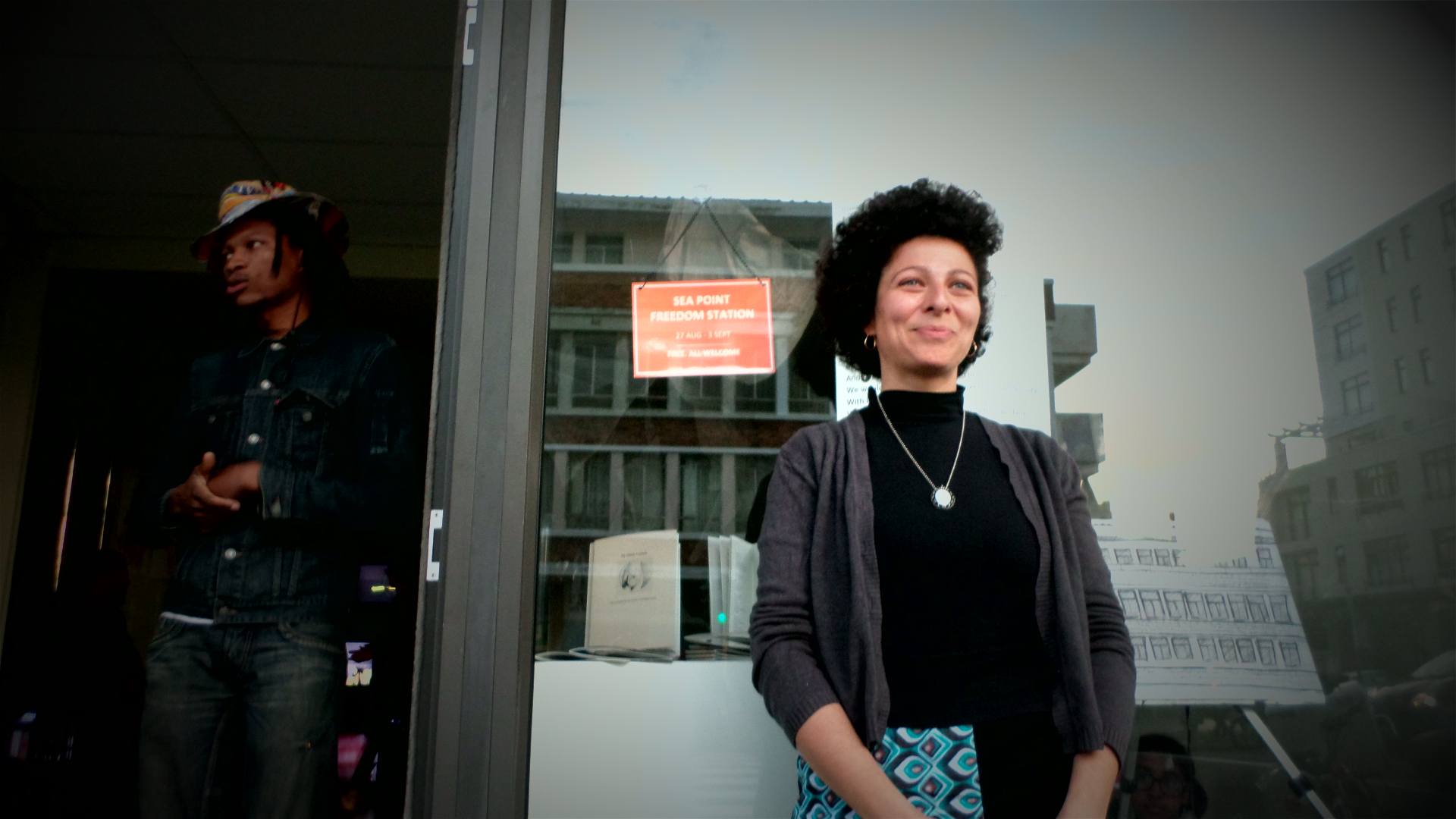 When the tent-revolt finished, she "realized that journalism wouldn't be the place where I can make a change, and I wanted a job to match the experiences I'd had". Geselev quit her job and went out looking for inspiration in South Africa, following friends' recommendations. "I immediately fell in love with this place. I knew this nice little jazz club, and they had passionate conversations in the back yard, just like in the protest. People who are looking at their reality, but not in a bitter, worn out way. That seemed to me like the right direction. When I went back to Israel, I said to myself: why do I need to get off this 'being high' and go back to reality? I want to keep that high. I felt that I could do that". She registered to study curatorship at the University of Cape Town, and after graduating, opened an agency for political curatorship, called "Yalla Shoola", which focuses on art projects in public spaces (libraries, restaurants, and schools) with emphasis on increasing the social harmony within the community.

"I initiate exhibitions and cultural events around topics I find interesting, and that I think call for creative solutions, like capitalism, estrangement in the context of the immigration experience, and economic inequality, and art is just an excuse to make the relationships between the audience members more real, which is what I'm ultimately interested in – the esthetics of human relationships."
And art is just an excuse to make the relationships between the audience members more real, which is what I'm ultimately interested in – the esthetics of human relationships."The important thing is to feel ability towards the world we live in. The world isn't just work, drinking, smoking, small talk, and then the day is over. My goal is to inspire others too, and that's the way I feel would be the right way to do it.
The protest essentially gave me a tangible experience of us being able to build a better society, not just theoretically, a society with proper public conduct.
When you experience something in a practical way, it leaves a deeper mark on you than just reading a couple of philosophy books. I love philosophy very much, but there's something very frustrating about the gap between reality and theory, and the protest filled this gap. Maybe that's the entire story of the protest on a small scale".
07.
From Carpentry to Education, and from Neglected Periphery to Neighborhood Rehabilitation Project
"We built a community in Tiberias, after years of estrangement and bitterness, this would never have happened if it weren't for the protest."
The tectonic shift in the life of Tzvika Ben-Zion Mizrahi happened in the months prior to the beginning of the protest. After years of living in Kfar Sava, working on the production line at the Teva factory (Teva is the biggest Israeli pharmaceutical company), family issues lead him back to his hometown of Tiberias, to work as a carpenter. From there, he watched the first tents in Tel Aviv, and was one of the first to push the peg into the ground in the Tiberias tent city. The people of Tiberias were part of the national protest wave, but today Mizrahi admits his rage wasn't focused enough back then. It was only later, when the group of Tiberias activists began initiating music events in the city – live concerts, jam sessions, discussion circles, and protest activities as the continuation of what happened in the tent city – that things finally became clear.
"When the protest started, I didn't know what exactly it was that I was fighting for", says 35-year-old Mizrahi.
"As someone living in the periphery, I knew things weren't good, but I couldn't put my finger on where exactly the problem was. I only learned these words after we had clarified the problems at the social music festivals: we're second class citizens."
Mizrahi started to focus at the micro level, on the neighborhoods, the local community. For a living, he works as a coordinator for at-risk youth at the Amal educational network, he volunteers at community centers around the city in the afternoons, and he's also involved in a number of local volunteer based initiatives.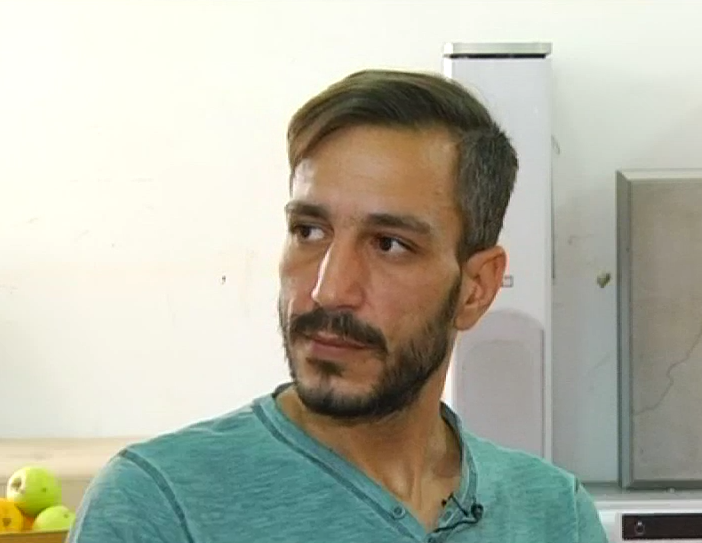 "The first decision I made was to tunnel the energy from the protest into rehabilitating my own disadvantaged neighborhood, Kiryat Moshe. We slowly began to connect the community around burning issues, we created a leadership forum, articulated a document with our key principles, and started a youth council, a women group, and a forum of people who work in non-formal education. We have a neighborhood Facebook group, we opened community gardens – people are meeting each other. Through hard work, we became a community, after years of estrangement and disconnection that had led to bitterness and frustration. All that would never have happened if it weren't for the social justice protest – it has essentially brought the entire city, including me, to a whole different state of awareness".