Dossier:
Malaria
Malaria is a mosquito-borne disease caused by a parasite. The 2013 World Health Organization Malaria Report estimates that nearly 630,000 people die of malaria annually. Thanks to an expanded global effort to combat the disease, major progress has been made – with a 54% decrease in the rate of child malaria deaths since 2000 in Africa, where 90% of malaria deaths occur. Despite progress, malaria still kills a child every minute. (Source: Malaria No More)
Experts from two apparently different areas – medical researchers and non-governmental field workers on the one hand, and game developers on the other hand – helped us to examine progress in Africa and to explore potentials by using technical means in the digital age such as mobile games.
This dossier is being published chapter by chapter.
01.
The World Malaria Report 2014
The World Malaria Report is WHO's flagship malaria publication, released each year in December. It assesses global and regional malaria trends, highlights progress towards global targets, and describes opportunities and challenges in controlling and eliminating the disease.
The World Malaria Report 2014 summarizes information received from malaria-endemic countries and other sources, and updates the analyses presented in the last report.
02.
Rolling back Malaria in Kenya
170 million is the number of working days Kenya looses annually from the death of her population due to malaria. This figure is costing the country vital manpower. In 2000 a declaration should bring the change. What happened since?
Malaria has been a thorn in the flesh for not only Kenya but for sub-Saharan African countries. In April 25th of 2000 a declaration was made by African heads of state to halve the number of deaths cased by malaria in the continent. A declaration though on course it is yet to be fully realized. So, the question begging to be answered is why after a decade past from the Abuja declaration of 2000 are so many Africans living in sub–Saharan Africa still prone to malaria despite nation wide campaigns to eradicate the disease?
Kenya spends millions of shillings of both government and donor money to help eliminate malaria. This is through a malaria control unit under the ministry of health. They have carried out various prevention methods such as free giveaways of treated nets to persons living in malaria prone regions of Kenya, such as the Coast, Nyanza lake regions and those living in the western highlands of Kenya not forgetting every pregnant woman in the country.
The government also works closely with the Kenya Medical Research Institute (KEMRI) to developed vital medications that have a ninety six percent success rate in both treating malaria symptoms and severe malaria complicated cases. Moreover it has carried out residential insecticide spraying and treating of stagnant water with lavacide campaigns to ensure prevention of the disease in mosquito prevalent regions.
This all being carried out by health officers with campaigns running every three years. 2014 to 2015 is a malaria campaign year and the malaria control unit is at it again, educating the public on the disease.
But why after so much input in public advocacy strategies does Kenya still maintain a high death toll of a preventable and curable disease? Well let's take a look at Agnes a Kenyan citizen and blue-collar worker who has lived in three different regions of Kenya, two of which are in the western highlands of Kenya yearly prone to malaria.
She is no stranger to the effects of the disease for she and her family have been victims of the anopheles mosquito. She has contracted the disease so many times that she cannot seem to count. Interestingly she is still not knowledgeable about the disease, as one would have assumed. She bares misinterpretation of what causes malaria like so many Kenyans do as I came to find out while researching for this article.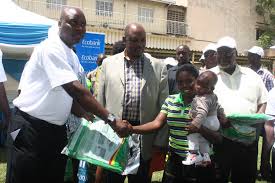 You see majority of Kenyans though having being taught in schools or educated through an advocacy campaign still relate malaria to be a worry of the rain season. So yes, heavy rain pour is a cause of stagnant water where mosquito's breed but it isn't the only season where mosquito's can thrive. Not withstanding many Kenyans do not sleep under mosquito treated nets. To be honest I am a culprit of this. We often wait to be diagnosed with the disease rather than adhering to the proverb prevention is better than cure.
It is only during and after treatment do we find need for the nets. But shortly there after fold them to the land of the forgotten. However, some still through caution to the wind and ignore the role prevention plays.
These two latter groups are the reason why malaria is growing and its eradication is a challenge. Kenyans and Africans have become victims of their own ignorance. We have chosen to overlook individual health responsibilities and laid the entire burden on the governments shoulders.
Back to Agnes our representation of an inside look into the average Kenyan. Does she seek medical attention when faced with sickens? Well like most people, she self-diagnoses herself before seeking relevant medical attention. A common mistake a majority of the population is a master of. A headache, one reaches for a painkiller, a cold.....well you understand where I am headed with this. We often as a population go for medication that mask the diseases symptoms and encourages its development, leading to the condition becoming worse. This indeed has been our undoing.
So it really doesn't mater if my friend Jennifer is sleeping in a mosquito treated net with her baby in the coastal town of Malindi. Mosquitos move and the more we do not prevent ourselves the more we put new mothers such as Jennifer at risk. The more we put at risk, our mothers, fathers, sisters and brothers. We can stop this vicious cycle if everyone plays a role.
In Kenya people have phased the term in Kiswahili "Serikali Saidia" its translation literally means "Government help". This term is the reason why we sometimes let go of wisdom and the need to self-help ourselves. American president John F. Kennedy said" Ask not what your country can do for you, ask what you can do for your country "back in 1961 words that seem to resonate with me as I write this story.
Africa needs her champions to stand and take charge and the only hero's I see play this part are we the Africans from each of the countries making up Africa. We need to stop the mentality of waiting for governmental and donor assistance to care for us. We need to embrace self-love, and to love you means caring for your health. Prevention is always the best option. So like me remove your net from the land of the forgotten, if you have none get one from the government distribution centres and if that's not possible, spare some few coins and get one and if all this is not possible, cut that grass and clear that stagnant water eliminate mosquito breeding opportunities in your environment and play your role in making Malaria a disease of the past…
More to read
The "Roll back Malaria" action of the World Malaria Day
Kenya - Malaria fact sheet
Ecobank kicks anti-malaria campaign in Kisumu
Project examples of the Kenyan Malaria Strategy 2010-2014
QUOTES IN REGARDS TO MALARIA
"By relieving people from the painful burden of illness from malaria, we enable more Kenyans to be productive throughout the year, and reduce disruptions to economic activity caused by sickness."
Uhuru Kenyatta, President Republic of Kenya
"With funding, we can defeat AIDS, TB and malaria...Science has given us the tools to alter the trajectory, and then completely control these three terrible diseases. But science will only take us so far. We need the funding to support programs that enable health workers to reach the women and men and children who need treatment. We know how to do it. But we have to work together."
Dr Mark Dybul, Global Fund Executive Director
"We have made tremendous progress in the past ten years, and we can't stop now...We are at a critical moment. Our gains will be lost if we do not move forward to defeat these diseases. We have a historic opportunity to completely control these diseases. We need to seize the moment."
Dr Mark Dybul, Global Fund Executive Director
"It is time to redouble our efforts to rid the world of a disease that does not have to take lives."
Barack Obama, President of the United States of America
"The damage this disease [malaria] does is quite incredible... The parasite has been killing children and sapping the strength of whole populations for tens of thousands of years...Now we can chart a course to end it."
Bill Gates, Founder of Microsoft
"I speak on behalf of the 44 ALMA Heads of State and Government. As the world begins discussions on the post-2015 development framework, African leaders understand that we have a three-year window to leverage every resources to ensure that we achieve the health goals for our people and to develop plans to sustain the gains." Ellen Johnson Sirleaf, President of Liberia
"The RBM Partnership is committed to helping mobilise the resources needed in endemic countries to maintain high levels of coverage with life-saving malaria prevention and treatment. We are looking for fresh ideas and new thinking about financing mechanisms that will reap greater resources for malaria. We are exploring all options - financial transaction taxes, airline ticket taxes together with UNITAID, and a "malaria bond," among others." Dr. Fatoumata Nafo-Traoré, Executive Director Roll BackMalaria Partnership
"The global campaign against malaria has shown what is possible when the international community joins forces on multiple fronts to tackle a disease that takes its heaviest toll on poor and underprivileged populations... The advances
Of recent years show that the battle against malaria can be won."
UN Secretary General Ban Ki-Moon
"Defeating malaria will require a high level of political commitment, strengthened regional cooperation and the engagement of a number of sectors outside of health, including finance, education, defence, environment, mining, industry and tourism. The fight against this disease needs to be integrated into the overall development agenda in endemic countries."
Dr Margaret Chan, WHO Director-General
"With malaria deaths in Africa having fallen significantly since 2000, the return on our investment to end malaria deaths has been greater than any I have experienced in the business world. But one child still dies every minute from malaria - and that is one child and one minute too many."
Raymond G Chambers, UN Special Envoy for Malaria and for the Financing of the Health-Related Millennium Development Goals (MDGs)
"It is unthinkable that we would allow millions of children to lose their protection and wipe away our US$10 billion investment to date by allowing resurgences to occur." Raymond G Chambers, UN Special Envoy for Malaria and for the Financing of the Health-Related Millennium Development Goals (MDGs)
"I'm calling on the private sector to be more active in the fight against malaria. This issue is important to everyone who lives and works on the African continent, so we need to see every company involved."
Yvonne Chaka Chaka, Roll Back Malaria Partnership Goodwill Ambassador
03.
World Malaria Day Berlin
On the occasion of World Malaria Day fairplanet held a panel on April, 25th, 2014 moderated by Ali Aslan, TV Host and Journalist, at Platoon Kunsthalle in Berlin. Malaria experts and computer game developers debated about what potential the digital age offers to solve humanitarian issues, in particular malaria.
Dr. Charles Mbgogo (Chief Scientist, KEMRI, Nairobi), Elizabeth Sarquis (CEO & Founder, Global Gaming Initiative, Minneapolis), Michael Brander (Biovision, Berlin), Thorsten Wiedemann (CEO & Founder, A-Maze Indpendent Game Festival, Berlin) and Sebastian Stier (CEO & Founder, Code Sustainable) joined our panel "Change the Game".
On the event we introduced the game for a cause "OUTBREAK RESPONDER", where our guests fought malaria in the game and in co-operation with Code Sustainable and Biovision in real life.
In Chapter 01. the results of this panel will be summarized. In Chapter 02. we conducted an interview with Sebastian Stier who developed the game Outbreak Responder.
Ali Aslan introduced the panelists and openend the discussion about Malaria in the Digital Age considering how Games can help to fight malaria.
04.
Change the Game
Interview with Sebastian Stier, Founder & CEO of Code Sustainable on the occasion of the U.S. launch of "Outbreak Responder" - a mobile game to fight malaria in both worlds, online and offline.
Questions by fairplanet
Particularly, these days when major conflicts and diseases like Ebola dominate the media, policies and public health activities Malaria doesn't appear on our agenda. Do we have an awareness problem?
Answers by Sebastian Stier
I think we have. Malaria seems to be far away for most people in the western world and when they travel to Malaria countries they just take anti malaria drugs for a couple of weeks. But for people living in affected areas the problem is massive and especially impacts pregnant women and children. Malaria is one of the biggest killers in developing countries. I don't want to talk down the danger of Ebola, but some of the media hype surrounding it seems exaggerated. Recently I read that more Americans have been married to Kim Kardashian than have died of Ebola. That might put it into perspective.
Standing in front of the world's largest gathering of public health specialists this week in New Orleans, Bill Gates announced his plan to eradicate malaria globally within a generation. "I think there's an amazing set of things we can do to help the poorest in the world. I am very optimistic we can get there faster than the skeptics think." said Gates. Do you think that's a realistic goal?
Many people don't know that, malaria also was present in the US until about 1950. So it is possible to eradicate it. I appreciate that the Gates Foundation puts more focus on malaria, which also increases public awareness for the problem. And I always believe we need ambitious goals. Wether it is possible to achieve it in one generation I cannot evaluate, but let's make Malaria a thing of the past. The sooner, the better.
Sebastian, tell us a bit about yourself. You've spent a longer period in Africa, working on development projects, and then founded, back in Germany, the game developing company Code Sustainable. What's the relationship between your experience and game developing?
First, I must say, that I was not working on Malaria projects in Africa. I did part of my studies in South Africa and worked for a while in Ethiopia. What I encountered coming back to Europe was, that there is sometimes little understanding about the challenges developing countries really face. Thats why we sat down and thought with engaging and entertaining games we can reach a broad audience and inform them in a creative way about the most urging development issues. So I quit my job as strategy consultant and founded CodeSustainable to develop Outbreak Responder.
Your game "Outbreak Responder" was launched earlier in Germany and Switzerland, and now with the U.S. release it's globally available. How is the response in Europe so far, and what do you expect from the U.S. market?
The US release is a big thing for us and with the Global Gaming Initiative we believe we found a great partner for the distribution. So far the game found its niche and casual players seem to like it a lot. But we need more players, because the game is so entertaining, that it would be fun for everyone to play. So let's spread the word: Go to the App Store and play Outbreak Responder.
What is the desired impact of your game "Outbreak Responder" on fighting Malaria?
Outbreak Responder is a very high quality game about the fight against Malaria. Besides me only core game industry experts worked on the game. That is also the reason why entertainment, game mechanics, graphics etc. can compete with other professional games out there. Our goal with the game is to inform players on a subliminal level about how to fight malaria. We don't want to bore people with vast amounts of text. People will learn about malaria just because they are interacting with the real dependencies between different countermeasures.
You initiated a co-operation with the Global Gaming Initiative (GGI). What is GGi's mission and why does Code Sustainable collaborate with them? Do you co-operate with NGOs as well?
GGIs mission is very similar to ours. We both want to create games, that have a meaningful impact. Meaning the a share of revenues is directly donated for the cause. In Outbreak Responder we are currently working together with Biovision Foundation and Malaria No More. We believe that Outbreak Responders offers for our partner NGOs a very valuable platform to reach out to audiences that would be difficult to reach otherwise. What drives us both, GGI and CodeSustainable, is the idea of what you can achieve if you are able to channel a share of the billion hours people spent with video games in games that are doing good.
About Sebastian Stier
Sebastian holds a degree in Industrial Engineering and Management from Karlsruhe University where he focused on finance, accounting and IT. During his studies he spent one semester at Stellenbosch University, South Africa, focusing on development economics. Since 2008 Sebastian has been working as a consultant for the German based top management consultancy Roland Berger Strategy Consultants engaging in various projects on restructuring, business development and growth strategy. Before joining Roland Berger, Sebastian has been working on the "One Laptop Per Child" project in Ethiopia for German based development organization GTZ.
About Outbreak Responder
CodeSustainable's Outbreak Responder is a time-management game that places the player in charge of malaria control projects. The game focuses on showing the general dependencies and relationships between the actions taken against malaria and its outcome.
Free Download of Outbreak Responder
USA and Canada or Rest of World
Editorial note
fairplanet is co-operating with CodeSustainable for a good cause
05.
The search for a cheaper remedy
Scientists all over the world are searching desperately for a malaria vaccine. In 2013 up to 2.7 billion dollars were given to research projects worldwide. But as long as the vaccine is not found, the World Health Organization (WHO) recommends artemisinin-combination therapies (ACT) as the only reliable means to treat malaria patients.
Pathogen resistance in sub-Saharan Africa would mean a 'meltdown' for the healthcare system
In Asia, the pathogen has already developed resistance to drugs based on artemisinin. Should this happen in sub-Saharan Africa, where about ninety percent of all cases of malaria occur, it would be a kind of 'meltdown' for the healthcare systems of the countries concerned.
A German researcher has now taken a potentially ground-breaking step forward in producing artemisinin. Peter Seeberger from the Max Planck Institute of Colloids and Interfaces in Potsdam (Germany) has developed a method by which artemisinin could be produced more efficiently, namely from the waste generated in previous production steps. In other words, the original plant is used twice.
New procedure would help most affected ones
With this new procedure, Seeberger claims, the price of ACTs could drop significantly, so that even the most affected groups, especially in african societies, could afford those life-saving remedies.
Artemisinin is extracted from a plant called 'artemisia annua' ('sweet wormwood'). Since there is only about one percent of artemisinin in that plant, large amounts need to be cultivated in order to produce the ingredient in sufficient quantities. The total production volume of artemisinin therefore depends on how many small scale farmers decide to put on Artemisia annua. Depending on market conditions, the price of the extracted artemisinin can change by up to 600%. A reliable production to match the global demand was therefore not yet possible.
There are two ways of getting artemisinin. The direct way is to extract it directly from the leaves of the sweet wormwood.
The second, more indirect path goes via a precursor of artemisinin, the so-called 'artemisinic acid', that was previously considered a waste product of direct extraction.
Meanwhile, this intermediate product artemisinic acid can also be produced using latest biotechnology. A US research team from Berkeley (California) has developed a method in which semi-synthetic artemisinic acid is grown from genetically modified yeast. The French drugmaker Sanofi already inaugurated a production plant in Garessio (Italy) in April 2013.
However, processing of artemisinic acid into artemisinin remains the bottleneck of the production of ACTs. With the methods used to date this last step was too expensive to be used on a large scale. But this bottleneck could have widened significantly with Peter Seeberger's new method.
It is a photochemical process; so light is essential. Artemisinic acid is sent through a thin transparent plastic tube that is wrapped around a light source, ensuring an even and constant flow. After 4.5 minutes pure artemisinin drips out of the hose.
Sanofi uses a photochemical process for obtaining artemisinin at its plant in Italy as well, but unlike the approach of the Potsdam researchers, the procedure used by the french scientists is not continuous. Sanofi's way is called the "batch" method, using large vessels, in which the reaction mixture must be pumped in and out over and over again. The reaction takes much longer because of the size of the vessels, so that many unwanted side products are formed. It is therefore very complicated to get the required degree of purity of the drug with this method.
Possibly the entire production of ACTs can be shifted into the affected countries
"Besides that, and probably surprising, the experimental setup of the new method is not very complex," Seeberger explains, "so it should be possible to shift the entire production of ACTs into the affected countries. They would therefore no longer be limited to mere suppliers of raw materials."
In fact, Seeberger is already planning a production facility in a malaria affected country for 2016. It's a little early to tell the exact location, he says, but a required number of small scale farmers of sweet wormwood can be found particularly in China and Vietnam in Asia as well as in Kenya and Madagascar in Africa.
With a yield of 65 percent Seeberger and his team at the Max Planck Institute in Potsdam are able to 'harvest' about 200 grams of artemisinin per day. What works in the lab does not necessarily work on a large scale, but Seeberger hopes that the envisaged plant will produce 10 tons per year in the first stage. The already equals about five percent of global annual demand.
06.
Backwash of innovation
Artemisinin, which is the central ingredient to all the treatments recommended by the World Health Organization WHO in the fight against malaria. Its production used to be difficult and little effective.
New methods to produce central ingredient for malaria treatments
Now however, artemisinin-based drugs (ACT; artemisinin-combination treatment) can be produced in a biotechnological and semi-synthetic way. With these new methods, massive price fluctuations could be stopped and the produced amount of artemisinin could be stabilized – that's at least what the pharmaceutical giant Sanofi promises. The french drugmaker has already opened a production plant for semi-synthetic artemisinin.
However, these new technological progresses have their downsides. They can be found in that very new, semi-synthetic production of artemisinic acid, the precursor of artemisinin, that Sanofi has now launched on a large scale. "The mere announcement that in the future artemisinic acid can be grown in the laboratories has let the market price of artemisinin to drop significantly," Dirk Pohlmann, Managing Director of Artemiflow GmbH, says.
Artemiflow is planning to open a first production facility for artemisinin in 2016 in one of the most affected countries. The company wants to use an innovative method for the production of artemisinin, which is different to Sanofi's precedure. It was developed by the German researcher Peter Seeberger from the Max Planck Institute of Colloids and Interfaces in Potsdam. (see "In search of a a cheaper remedy" in this dossier.)
"Because of Sanofi's announcement and the subsequent drop of market prices, loads of artemisinin extractors in the south have already collapsed and gone bankrupt", as Pohlmann of Artemiflow explains, "and thousands of small scale farmers have sorted out their cultivation of sweet wormwood, the plant that contains artemisinin, and switched to other crops."
Originally, it was intended that the new semi-synthetic method - which was massively supported by the Bill Gates Foundation – could help to reduce price volatility and stabilize production.
In the german headquarters of Sanofi in Frankfurt, spokesman Philipp Heinz shows understanding ot the concerns. "Our semi-synthetic artemisinin is not intended to replace the naturally grown plant production of artemisinin, but to add another production option. An additional source of high quality artemisinin can improve the artemisinin supply, ensuring stable prices and thus allowing a wider availability of artemisinin-based treatments for malaria patients." In fact, Sanofi has promised to produce no more than sixty tons of artemisinin per year synthetically and therefore not to displace any small scale producers.
More harm or good in practice?
Whether the intentions of the french pharmaceutical giant actually do more good than harm in practice remains unclear. Even Sanofi's announcement of 60 tons of artemisinin synthetically, about one-quarter of the annual global demand, has its effects: the market price of artemisinin already dropped to an all time low. What a sadly ironic twist to it, as it could in fact lead to a shortage of artemisinin, since a mass death of small scale artemisinin producers has already begun.
And there is yet another problem in providing cheaper medicine to fight malaria, as indicated by Oxfam, an anti-globalization and non-governmental watchdog. "It is not enough to provide malaria drugs in large quantities and at low prices, when there is nobody on site having sufficient knowledge and expertise", Nikolai Link, spokesman for Oxfam Germany, says.
Oxfam refers to a US study, after which about sixty percent of all fevers are not malaria in Africa, but are treated – due to a lack of medical knowledge – using anti-malaria drugs.
Such treatment failures do not only lead to a worsening of the clinical pictures of those affected, but may also support an increased development of resistance of the malaria parasite. In the african context, where about ninety percent of malaria patients occur, a widespread resistance to artemisinin-based drugs would come as an unprecedented catastrophy.
In the long term, the fight against malaria can not be won even with artemisinin-based drugs. The malaria parasite in millions of years of evolution has developed to a kind of a "matching world champion" in order to evade and confuse the human immune system.
In its current malaria report, WHO confirms that pathogen resistance to artemisinin had already occured in some countries of Southeast Asia.
Therefore it seems as if the pathogen's development of resistance to artemisinin is a process that can only be slowed down, but can not be prevented. The development of new, innovative drugs thus is still required, at least as long as the urgently needed vaccine is not available.